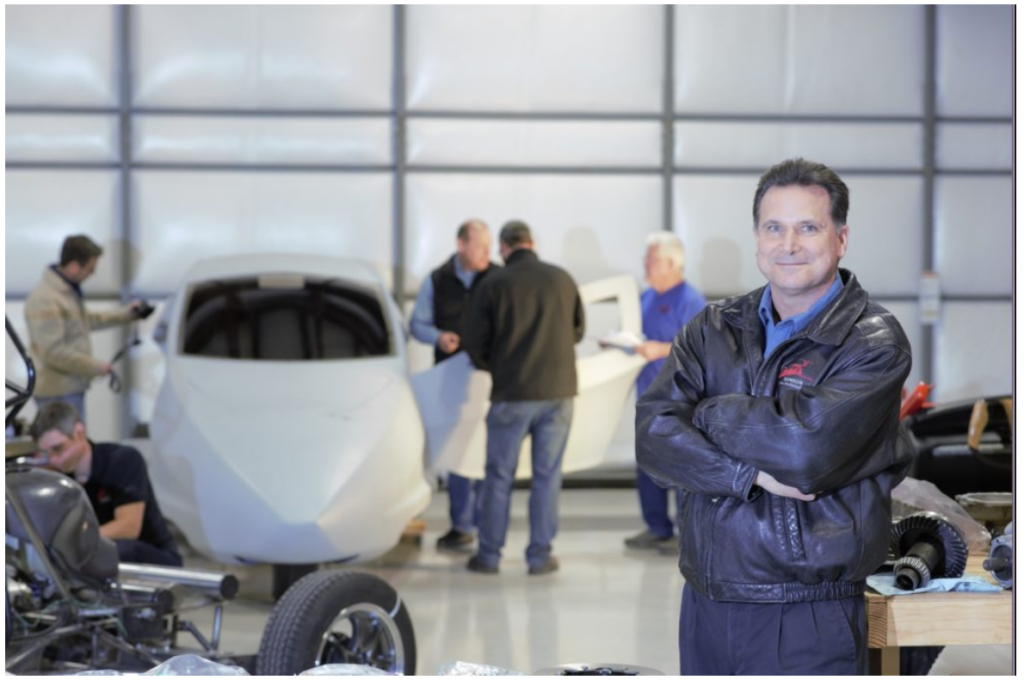 Sam Bousfield is the founder and CEO of Samson Sky, a company that is developing the first truly useful flying car. Sam is an architect by training, but a passion for aviation led him to work on a supersonic aircraft with Boeing. Out of this experience came the idea of building a flying car called the Switchblade.
Harking from an architectural background, Sam approached the problem of designing a flying car slightly differently. Rather than asking the question of how you could make a car fly, Sam and his team focused on the architectural question of how a vehicle that can both fly and drive should be designed. Answering this question led the Samson team to some unique design choices, such as a three-wheel layout and wings that stow and swing out from underneath the vehicle. One of the other challenges in designing a flying car is striking the right compromise between on-road and off-road performance. For example, a car should preferably create downforce, while a plane should create lift. To achieve this Samson Sky has made some very clever design choices in terms of the layout and shaping of the Switchblade, as well as the positioning of the wings and centre of gravity, and the use of lightweight composite materials. In our conversation, Sam and I talk about:
why it has taken so long for a functional flying car to be built
the main design challenges that need to be overcome
the changes that need to be made to the vehicle when switching between flying and driving
the way that Sam envisions the Switchblade to be used in practice
and much, much more.
If you enjoy the Aerospace Engineering Podcast you can support it by leaving a review on iTunes or by supporting it directly on Patreon, where patrons of the podcast receive exclusive behind-the-scenes content and special episodes. Thanks a lot for listening!
Podcast: Play in new window | Download | Embed
Subscribe: Apple Podcasts | Android | Stitcher | TuneIn | RSS
---
This episode of the Aerospace Engineering Podcast is brought to you by my patrons on Patreon. Patreon is a way for me to receive regular donations from listeners whenever I release a new episode, and with the help of these generous donors I have been able to pay for much of the expenses, hosting and travels costs that accrue in the production of this podcast. If you would like to support the podcast as a patron, then head over to my Patreon page. There are multiple levels of support, but anything from $1 an episode is highly appreciated. Thank you for your support!
This episode is also sponsored by StressEbook.com, which is an online hub for you if you are interested in aerospace stress engineering. StressEbook.com provides world-class engineering services and online courses on the stress analysis of aircraft structures, as well as a free ebook and blog. No matter if you're a junior or senior structural analyst, stressEbook.com provides you with the skills and know-how to become a champion in your workplace.
---
Selected Links from the Episode
Sign-up to the monthly Aerospaced newsletter

Privacy & Cookies: This site uses cookies. By continuing to use this website, you agree to their use.

To find out more, including how to control cookies, see here:

Cookie Policy